Since 2009, CBNweekly has been observing the venture capital ecology in China. Apart from the hot "areas with greatest investment potential" and bright "projects", who can truly span the ups and downs of the economic cycle, have the potential as a high-quality startup, and continue to increase the size of the Chinese market in terms of capital and services has always been the focus.
In the past 10 years, the industry has faced a series of changes, such as the weak external economic recovery, the intensification of global problems, the new regulations and the rise of the "new economy" model. China venture capital institutions are facing a more complex and competitive landscape, the underlying assets, investment logic and entrepreneurial ecology will be far-reaching influenced.
On August 9, 2018, CBNweekly officially announced the "2017-2018 China Venture Capital Institutions Ranking", and the top 50 venture capital institutions in China were unveiled here.
Five years of outstanding investment performance since establishment, N5Capital won CBNweekly's "China's TOP 50 Venture Capital Firms of the Year".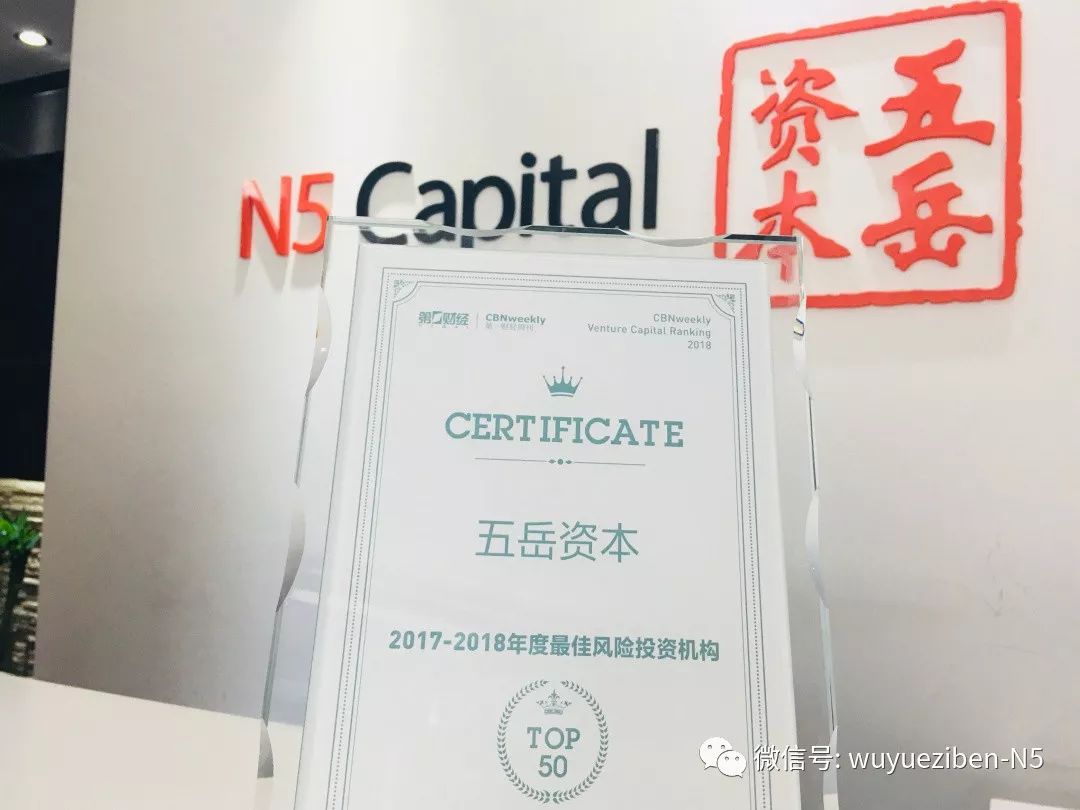 The Cornerstone Investor of Early Stage Entrepreneurs
N5Capital, co-founded by Mr. Will Jiang and Mr. Weiguo Zhao in 2013, is an active venture capital firm focusing on early stage investment in Consumer & Technology Convergence, fintech and digital economy fields. N5 now manages two RMB funds and two USD funds, with about CNY 4 billion under management.
The founding mission of N5Capital is to "look for innovative value-driven startups and help to accelerate their growth towards world leading enterprises". In the past 5 years, N5 invested in more than 80 innovative startups, and its portfolio includes excellent innovative high-growth startups such as Hot & Hot, 360 Finance, TalkingData, Viva Video, Ofashion, Mocha, Shilily, Car 300, Rent2play, LGD, Fast4Ward, Jack WeWork, Soup Town and Zhulogic,etc.
N5Capital is a disciplined investor with deep insight into the core of business. It commits to being a professional & efficient, modest & upright, honest & creditable cornerstone investor that exert great beneficial influence on startups at the early stages.
Attached is the list of "TOP50 China Venture Capital Institutions in 2017-2018" of CBNweekly: