Reprinted with permission from the Investment Community (WeChat ID: pedaily2012)
Qian Kun, partner of N5Capital, said, "I have known the founder Wu Yuening for many years. He is a structured entrepreneur and has a deep understanding and strong execution in the retail industry. His team is currently a top-level team in the market. N5Capital is optimistic about the future development of the retail collection store track. "
The Investment Community (WeChat ID: pedaily2012) reported on October 23rd that according to 36kr, the new retail ecological company "KK Pavilion" announced today that it has completed a $ 100 million Series D financing and officially upgraded to "KK Group". This round of financing was led by the eWTP Science and Technology Innovation Fund. N5Capital and the prior investors Matrix Partners and Heizao Capital participated in the investment.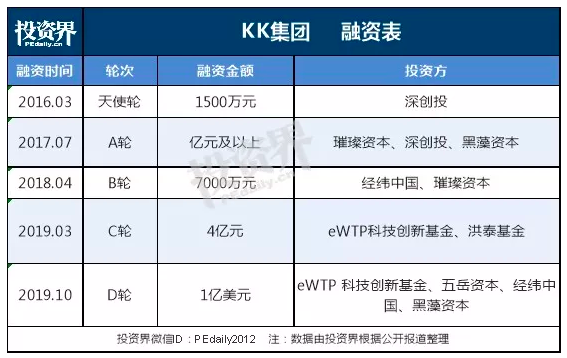 KK Group is an import collection store that integrates "online App mall and offline stores". It first appeared in 2014 under the "KK Pavilion" brand. It entered the physical retail field through imported fast-moving consumer goods such as snacks, beauty, and personal care, etc. In the early stage of development, "KK Pavilion" was mainly direct-operated stores. It has been open for franchising since 2018, and it has opened hundreds of stores across the country. It is reported that the investment return period of its stores is between 12 to 14 months.
Since May this year, KK Group has launched a multi-brand strategy and successively launched the main lifestyle store "KKV" and the pure makeup collection store "THE COLORIST". KK Group founder and CEO Wu Yuening said that although different brands are required for different categories, the requirements for many capabilities are common. "The back-office supply chain has been made heavy enough to enable new brands to operate through the middle stage, so the front end can naturally be lighter."
After the completion of this round of financing, the KK Group's valuation exceeded US $ 1 billion, and it officially became a new retail unicorn. This round of financing is also the largest financing in the new retail sector in 2019. According to Wu Yuening's disclosure, after the completion of this round of financing, KK Group will continue to invest in the multi-brand matrix strategic upgrade, further strengthen the construction of overseas supply chains and channel systems, and launch social e-commerce. However, in general, KK Group's focus is still offline, and the online layout is to help users to feedback offline and form a positive cycle.
Qian Kun, partner of N5Capital, said, "I have known the founder Wu Yuening for many years. He is a structured entrepreneur and has a deep understanding and strong execution in the retail industry. His team is currently a top-level team in the market. N5Capital is optimistic about the future development of the retail collection store track. "